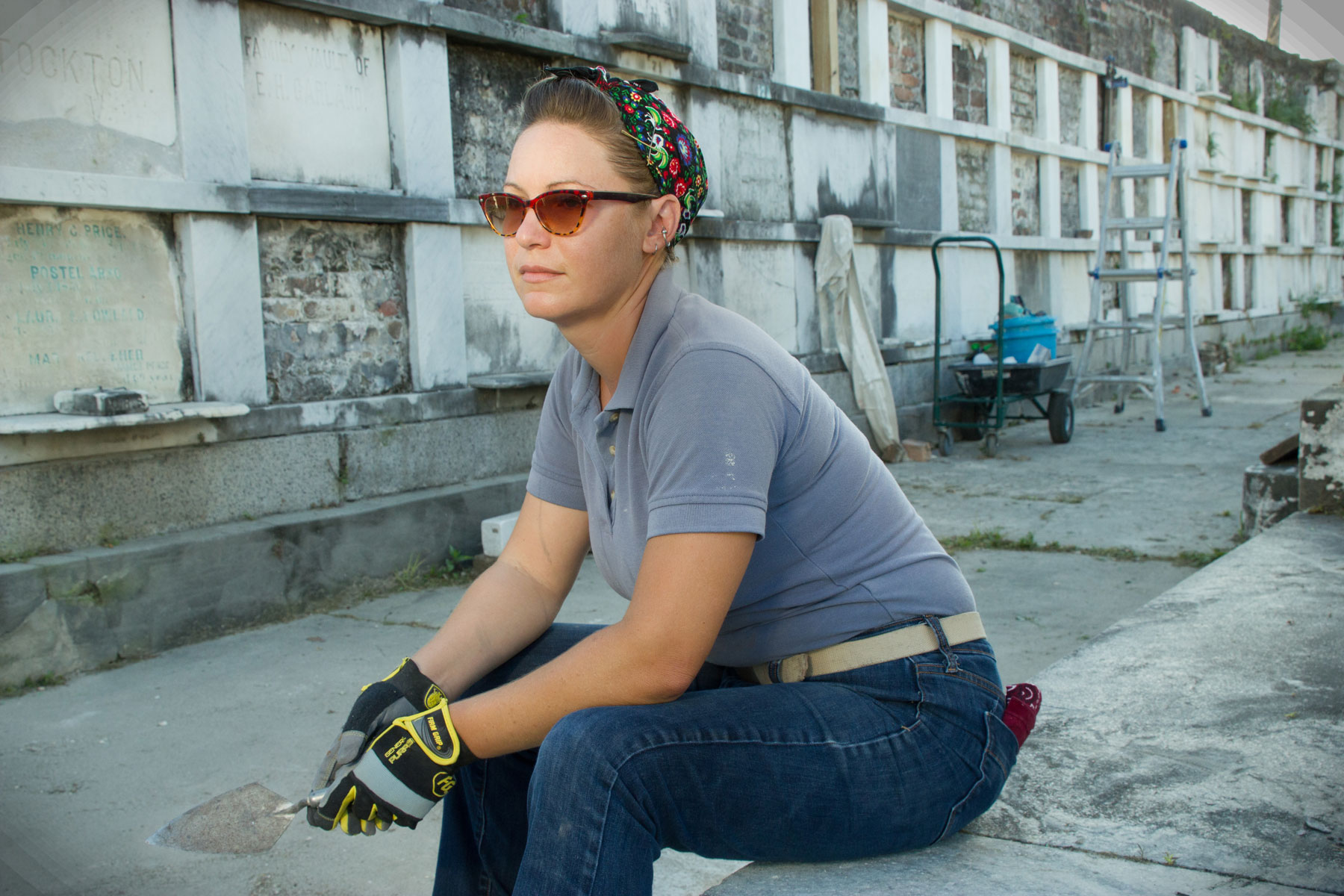 Known throughout the region for her tomb restoration expertise and techniques Emily Ford rests between tasks at Odd Fellows Rest Cemetery.
Emily uses proper materials and artisanal techniques that serve to provide sustainability and responsible preservation of the tombs, copings, monuments and landscapes of these cemeteries. That body of work, combined with her documentation and public education initiatives, represents a focused and effective commitment to historic preservation that merits public recognition and honor.
Frances Swigart-Steg is renovating her Carrollton Victorian home with the help of State Tax Credits. As a visual artist, she specializes in intaglio and relief prints and oil painting with gold, silver, and copper accents. Trained at the Newcomb Art School of Tulane University., Frances embraces traditional techniques and antique printmaking equipment in order to create contemporary images. In the same way, she embraces living and working in a historic New Orleans neighborhood, finding inspiration around every corner.
Eduin Sevilla is a member of the 2018 Award for Excellence in Historic Preservation winning team for his welding mastery at the Inn at the Old Jail.
Vacant since Hurricane Katrina and owned by the City of New Orleans in 2010 when named to Lousiana Landmarks Society's New Orleans' Nine Most Endangered Sites, this striking 1902 Queen Anne style structure, which housed a Police Jail and Patrol Center, was a victim of extreme demolition by neglect. In 2013, the building was auctioned to the winning owners, whose plans to turn the property into a bed and breakfast establishment were unanimously approved by the City Planning Commission in 2015.